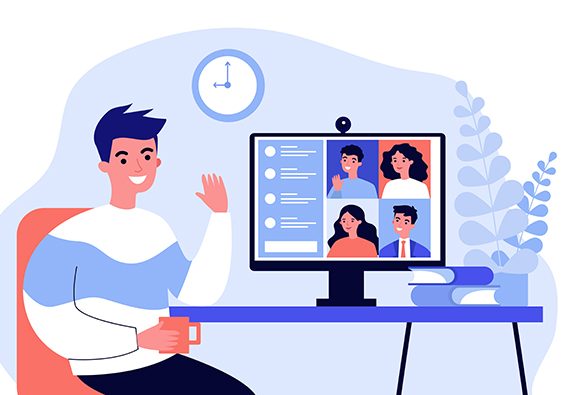 Get Face-to-Face; Embrace Being On-Camera
If you've met me, you know I'm a believer in balance. It's something that can be applied to all things, even B2B marketing and selling. I'm talking brand and demand; best practices and experimentation; digital and in-person. 

About that last one: in-person. There has never been a more impossible time for this critical aspect of the B2B marketing and sales process — in-person. We've written on the importance of face-to-face, physical interaction, both as a human instinct and business necessity, and the need to balance that with our digital obsessions. Humans crave physical interactions, and one-to-one personal experiences make for effective business relationships. And here we are, "sheltered in place" while still faced with the demands of conducting business as effectively as possible. 

In Part 1 of this series, I, Chris Eifert, TriComB2B's principal, wrote about different tactics you might explore to engage customers, especially absent the abilities to attend, exhibit and host in-person events. This blog focuses on creating the best simulation of face-to-face experiences through digital media, whether a webinar, interactive webcast or customer call. I've added some encouragement to show your face and tips to look and sound your best when you do. 
Be Seen and Heard
Getting on-camera isn't everyone's instinct. (It's not my first choice either.) I went to school with the dream of being a news anchor; after my first gig sideline reporting, I quickly learned it was not for me (whoops). Now I'm working from my little sunroom, void of any opportunity to see a co-worker or customer. But at least I have my plants! 

My semi-introverted personality tells me I can get by with phone conferences, emails and texts, but none of those carry that "I'm still here, relevant, working in your best interest, ready-to-help" feeling that is so important for people to hear, especially now. So I put myself on-camera for every interaction when it's an option. Why? B2B interactions are inherently personal. And it's hard to be personal and show your enthusiasm for your work when you're hiding.
Video Conferencing
If you're in sales, do everything you can to video conference with customers. It's a level of effort your competitors may not be putting in. It gives you a chance to see the body language, action, semantics and gestures that make for complete encounters. It will keep your relationship strong as you work through this crisis. Don't believe me? Try subbing your five-person phone call with a video conference. You'll experience the difference almost immediately (and so will your audience).
Webinars
If you're a subject matter expert or webinar moderator, get your face on-screen, along with your slides. Build a connection with audiences; show them your personality and vulnerabilities. They might see you smile at a question, laugh at a mistake you make, or witness the passion you hold for a topic. It also will make you a better presenter by using more energy and intensity, because you're more acutely aware your audience is watching.
Interactive Presentations or Demos
Feeling bold as a subject matter expert? Consider adding a teaching, demonstration or interactive component to your presentation. Imagine how much more your audience will gain from your presentation if you stand at a white board or point the camera to a piece of equipment or user interface to demonstrate a technique or process that is important to them. (It can be done; see the next sections.)
Be Your Best On-Screen
Aside from changing out of your favorite sweatshirts (mine is my University of Dayton collection [go, Flyers!]), there are a few things you can do to look and be your best on-screen with your team or your customers.
Settle Into Your "Office"
First things first: find an area you can designate just for meetings if you don't have a home office. This could be a table, a spare bedroom or just a quiet area away from your dog. Having your own space will establish professionalism in a remote setting, give you the tools to stay focused, and lend to your on-screen confidence.

Once you find a spot, take time to test your audio and get an idea of what the space looks like on- camera before going live. Tidy up your background and find a space that creates a clean, simple backdrop.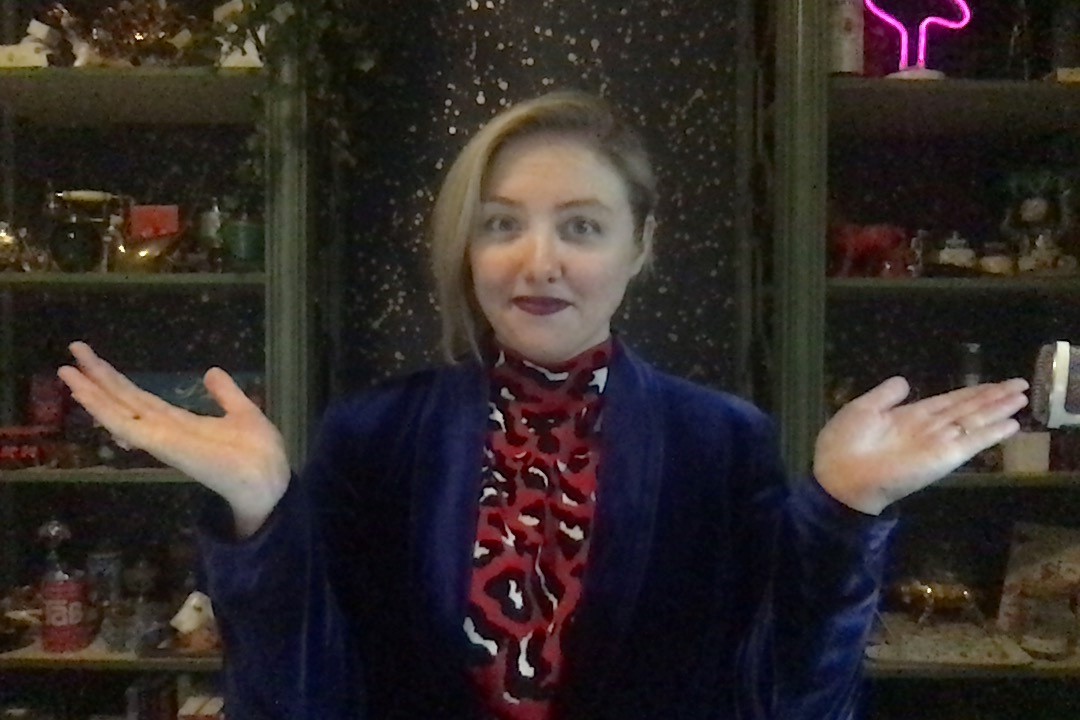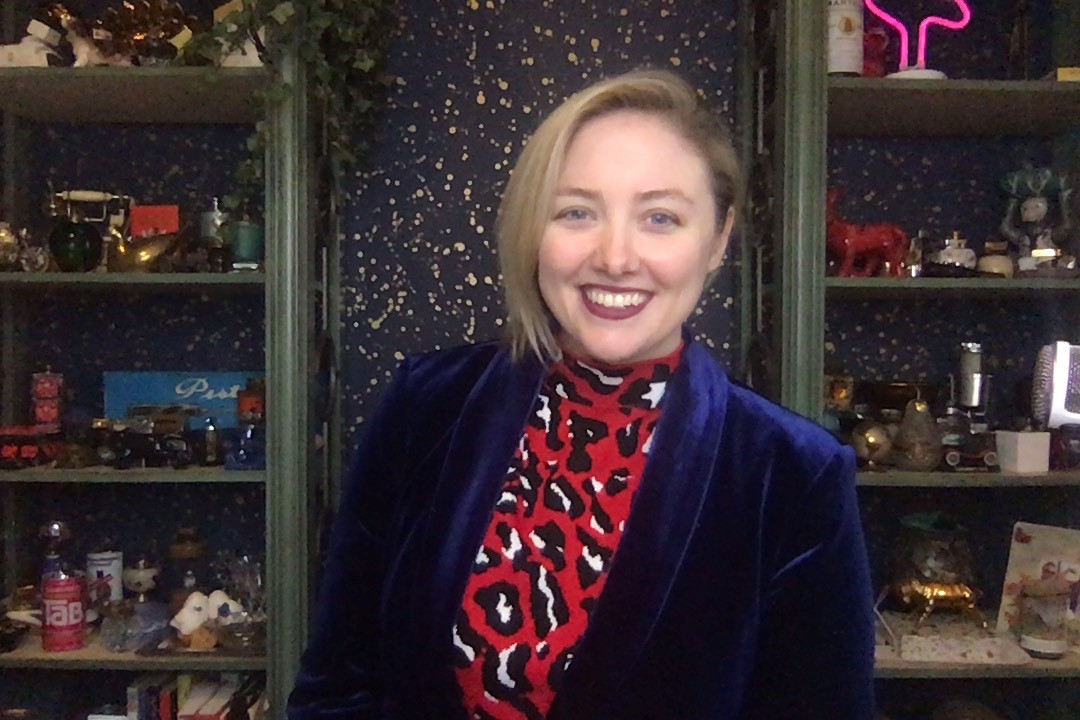 If it's just you and your computer, keep a pair of headphones nearby for better sound quality and to prevent background noise. Also, take your designated room's lighting into consideration. You'll want to face your big window or lamp instead of having it behind you. Think about the setup of your favorite talk show compared to an "America's Most Wanted" interview and you'll quickly realize that lighting makes all the difference!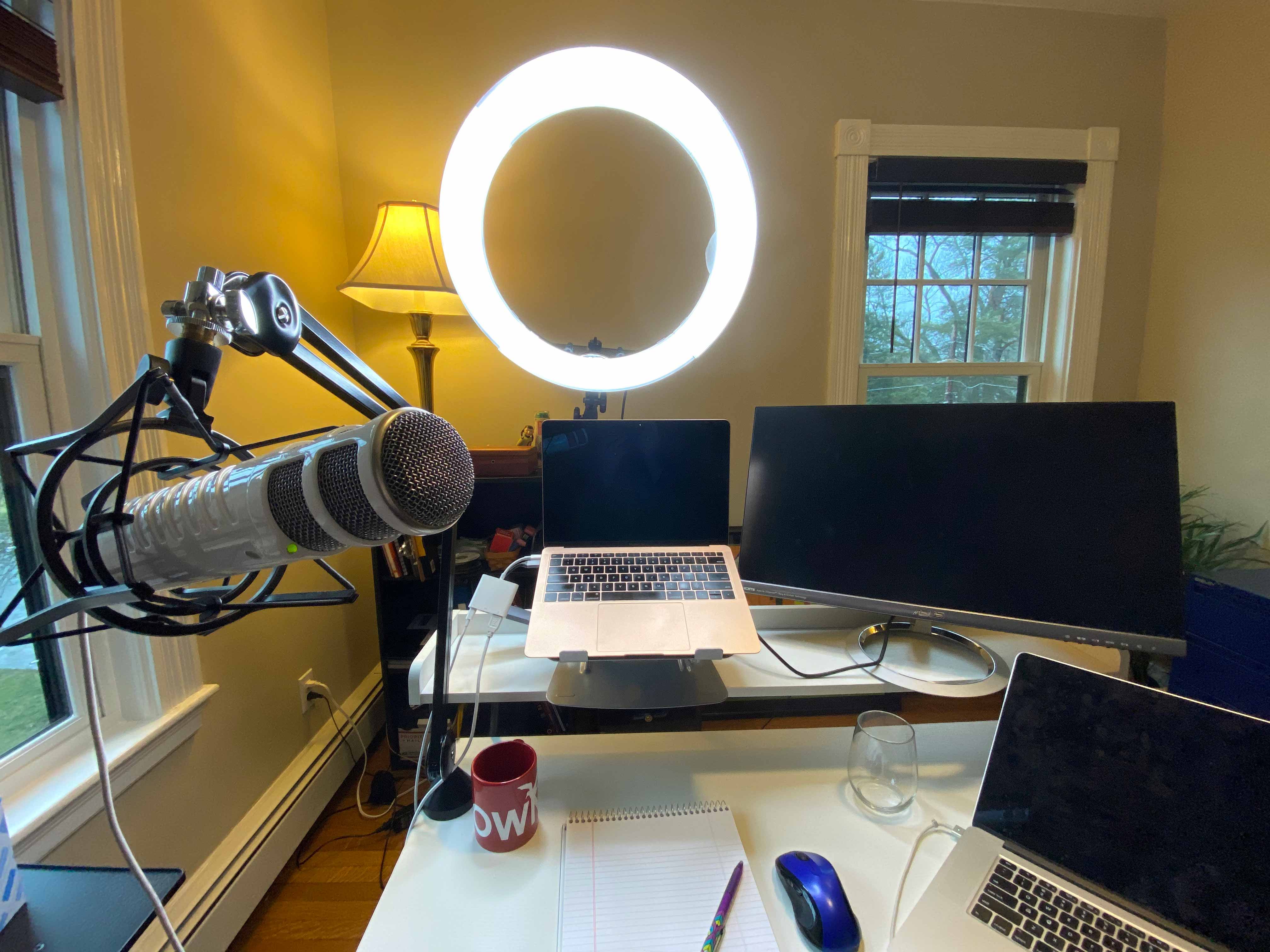 If you plan to conduct webinars or interactive demos from your home on a regular basis, it's worth investing in some equipment.
For better sound quality, add an auxiliary microphone. There are plenty of USB-compatible options out there.
Work with additional lighting options like a ring light. Depending on your space, natural lighting may be an issue. Purchasing some additional lighting will give you more control of your space.
Upgrade your webcam! If your computer is anything like mine and is at the bottom of your laptop screen, it's not built for a professional-quality webinar. Save your audience the view of your fingers as you respond to the group chat or a grainy video stream and buy a new webcam. Here are some options.
Be a Subject Matter Expert With Gravitas
It's a different world right now, and engaging customers or even your internal team across digital channels is going to be the new norm, at least for a while. Let's make the most of it. Whether it's for sales calls or a webinar, take advantage of the little things that make the experience a positive one for your audience. Doing so will get you that much closer to the physical, person-to-person interaction which creates the emotional connections and personal relationships that drive business.

Hang in there.