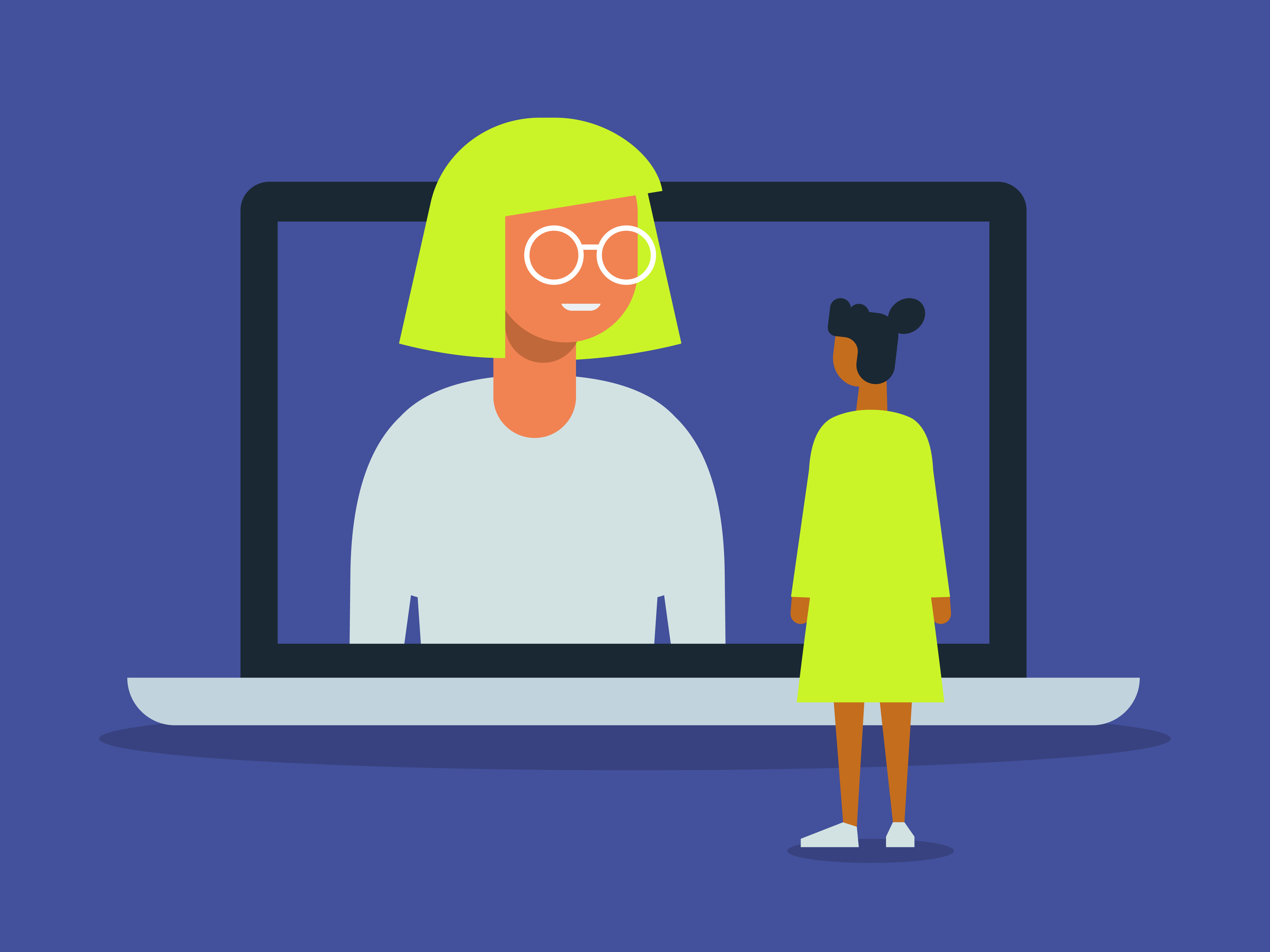 We've struggled with whether we should be respectfully quiet or continue to communicate as a member of the B2B marketing community during this crisis. So many people are being affected each day, our own team members included. We've decided to continue to embrace our role as a business, which includes providing counsel and being a dependable partner through thick and thin. While "business as usual" is not possible during this time, we will keep sharing ideas and perspectives about our passion — B2B marketing — in hopes you'll find an idea that will move your business forward. Know we are mindful of the challenges many of you will face in the coming weeks and months, and we're keeping you in our thoughts
Trade Shows and Events Have Been Canceled. Now What?
No area of the B2B marketing mix will be hit harder than the event marketing space. The spring trade show schedule was cut short by cancellations and the fall season is on the brink, whether from exhibitors pulling out or virus-related postponements and cancellations. Several of our customers, and even our agency, fell victim to our in-person customer events being cancelled. B2B marketers are now looking for answers to replace what many consider the most important lead generation and brand building tactics on their marketing calendar. And I bet your customers are anxious to see you adapt.

If there is a silver lining, we find ourselves awash in digital options as marketers scramble to find ways to replace the face-to-face event experiences that may not resurface until 2021. Consider these four options, listed in order of speed of deployment: webinars, interactive webcasts, podcasts and virtual trade shows.
Webinars
Long considered one of the best engagement and lead-generating strategies in B2B, as 73 percent of marketers say it is one of the best ways to generate high-quality leads, yet a surprising number of B2B companies still haven't embraced a consistent webinar program. Now's the time. B2B buyers rate webinars as their most valuable content format in the middle stages of the buying cycle, and they're willing to spend 20–60 minutes viewing content when it's in webinar format! 
You can have a webinar series up and running in a week if you're feeling ambitious. What do you need to do? Here's a short list of considerations. 
Content strategy — What business problems do your customers have that you're best at solving? What industry issues are hot right now, and what is your company's point of view on each? Developing content strategies can be a drawn-out process, but I suggest not overthinking this. Which customers can you help right now and with what problems? Pick one or two tracks where you can string together sustained content — four to six successive presentations. Maybe it's best practices for remote monitoring and diagnostics? Or maintenance and upgrade practices for idle equipment? Or perhaps it's time to get your distributors or wholesalers retrained on complex technical principles?
Content audit — My guess is you have 75 percent of the content you need within your organization. Contact your subject matter experts to find the presentations, white papers and case studies you don't already know about. Organize what you find to align with identified content tracks. Recruit subject matter experts to develop and lead the presentations.
Pick a platform — This is the easy part, and there are lots of options. You can find dozens of listings and blogs about different platforms. There are plenty that are fully featured. Make sure you consider future uses when making your selection. 
Promote — Depending on the quality of your customer database, this either can be a very satisfying or very frustrating moment. Any platform you choose will have automated capabilities to invite attendees by email, register them, send calendar invites, and remind them of upcoming events. Earning an audience depends on two things: whether you have a database to promote your webinars to and if the content you're posting resonates with them. If you're having trouble building a relevant list of attendees, tap into your distribution and reseller channels. Ask them to promote the webinar to their customers. Just like you, they're looking for ways to replace the face-to-face interactions they can't have right now. Use your social media platforms and blogs to extend your reach. Finally, don't pick your dates and times randomly. Plenty of data exists to help you pick exactly the right time. 
One way to get immediate traction for your new webinar series is to partner with trade publications or associations. Many have well-established webinar series with established audiences. A sponsored event is a great way to find an audience and test the concept.
Practice — Always do a dry run. Period.
Be interesting and concise — When I say interesting, I mean having an excellent, high-energy moderator and always using your best subject matter experts who are strong presenters. A super-smart SME who has trouble presenting is a future audience killer. Find your best presenters and figure out how to get the content across in 30 minutes or less. I've seen some creative approaches that limit their webinars to 10 to 15 minutes, like a TEDx Talk. (Our agency recently did a series of seven-minute talks on different marketing topics; it was some of the best content we've ever delivered.) Leave 10 to 15 minutes for discussions and question answering. Make sure your slides are readable and interesting. If anyone says, "I know you can't read this," or "I know this slide is hard to understand," then DO NOT USE THAT SLIDE. Use interactive polling and other engagement tools as soon as you're comfortable.
You can add interest by including a credible third party to the presentation. A respected and relatable third party is one of the best ways to build trust with audiences. But don't take my word for it. Your audiences have already told us they appreciate third party perspectives. 
Follow up — When finished, be sure to email attendees with a link to the recording. Ideally, you should also send a related piece of content (white paper, case study, e-book). In a separate email, send the same materials to people who registered but did not attend. Depending on your schedule, be ready to promote your next webinar while you have their attention. 
Keep it alive — Have one of your writers put together a blog wrap-up of the webinar content, including answers to the most interesting questions asked. Repurpose the content as a blog series. Put the webinar recording on YouTube. Give your sales team an email with links to recorded webinars so they can share content with customers.
Interactive Webcasts
What's the difference between a webinar and an interactive webcast? Technically nothing. But there are degrees of engagement (and difficulty) when it comes to delivering content, and an interactive webcast takes it up a notch. The key word is interactive. Many of the webinar tips I mentioned still apply, but here are a few ideas for giving audiences the next level of content.
Video (presenter and moderator) — Keep in mind our goal here is to create a reasonable replacement for "in-person" interaction. So let's get our presenters and moderators on-screen! Don't be shy. If you're willing to meet with someone at a trade show, you can muster up the courage to put yourself on-screen. This allows the moderator and presenters to add another level of energy and puts a face to the voice for attendees.
Video (prepared) — If you have video content that supports your subject matter, make it part of the event. All platforms can integrate pre-recorded video. It's a change of pace that attendees will appreciate. If you decide to include pre-recorded video, be sure to test this transition from presentation to video and back during your dry run.
Video (live demonstration) — Ready to show your audience your smarts? Take it up a notch with some informal teaching or a demonstration. Depending on your product, offering or subject matter, you might be able to integrate an informal tutorial or demonstration of a product feature. Imagine one of your engineers sketching out a system architecture on-camera. Or demonstrating a series of helpful PLC setup sequences. Or remote diagnostics capabilities customers can access through a mobile app. How about that tricky system pressure calculation everyone has trouble with? Use your imagination. Just make sure you get the right equipment. 
 Audience participation — Design your presentation to incorporate audience participation that goes beyond Q&A chat and polls. Many platforms will allow attendees to become presenters. If you're providing training or a tutorial, there may be opportunities to invite attendees to add their point of view or experiences by appearing by video. I'd recommend pre-arranging a volunteer or two to get involved in this way, in order to warm up the rest of your audience to the idea. 
THE RIGHT GEAR
Podcasts
Another medium that's becoming more popular in B2B, especially as target audiences are finding they have more "independent" time than usual, is podcasting. As with webinars and interactive webcasts, a content strategy still applies. There should always be time for a thoughtful discussion about content that will be helpful for your audience. Otherwise, it's just noise that won't engage.

Because the format is audio, you might think this is the easiest format to produce. But that's not necessarily true. An engaging podcast should be a conversation between two or more parties — planned but not scripted. Because a podcast does not include visual support, the onus of being interesting and relevant rests completely on the moderator and subject matter experts. Here's one I did recently. I'll let you be the judge on how I did. 

I view podcasts like a dinner party conversation, just about business topics. This format lends itself better to subject matter experts providing their points of view on an industry trend or pressing issue that is affecting their industry and customers. Just thinking through today's industrial landscape, I can see a series of podcasts covering any number of topics:
Shifting regulatory requirements related to energy, emissions, refrigerants, data privacy, automobile mileage standards, payment security and much more. How do new regulations, delays, changes and reversals affect your customers, and what advice can you give them?
Workforce. Many industrial segments are being impacted by aging workforces and historically low participation in the trades. Almost every industry with significant mechanical or electrical content faces a technician shortage. What can they do to mitigate this gap? Can you help them with automation or special training capabilities?
IIoT. You can't open a trade publication without finding great content on IIoT. The application areas appear to be nearly endless, but it's not as easy to implement "transformative" IIoT as the consultants make it sound. I bet your SMEs have some ideas to help customers get started. And what data can you cite about security? Can your IT leaders offer their perspective?
From fossil fuels to electric. Notice lately that battery technology is improving exponentially and investments in carbon-based technology (e.g., internal combustion engine) are waning? How might this impact your customers? Are there areas where improved battery technologies or electrification can create an opening for them (and you)?
Let's go! Put your imagination hat on and start podcasting. You can do your own or start with a media sponsor to learn the ropes. If you want to host your own, here's an article that explains how. Here's a great example of one we just helped a customer put together. 
Virtual Trade Shows
We experimented with virtual trade shows several times on our own with some success. One of our major industrial clients, Cummins, successfully used virtual trade shows for major product launches (with thousands of global attendees!). With the cancellation of so many shows, the virtual trade show is re-emerging as an option. Crown Equipment, a global lift truck manufacturer, just launched one of their own a few weeks ago.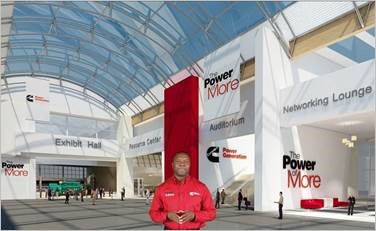 With a virtual trade show, you're committing to your own, company-hosted 3D event. This format works when you have a BIG story to tell: a very important product launch, a new category or business you're entering, or an industry-focused campaign. There's a lot to think about here, but a well-planned event is a great way to show you're adapting and making the effort to engage and help customers. 
Platform — There are several leading players in the virtual event space, any one of whom could be a good fit, depending on requirements and budget. We suggest taking close looks at 6Connex, Intrado and vFairs. If the event is about a singular product, you'll likely require minimal "exhibit booth" space and more capabilities for virtual presentations, videos and chat. Some platforms have solutions specific to product launches. Others have excellent subtitle and language localization options. You'll need to establish a set of criteria and evaluate which platform is right for you. Based on our experience, we'd make customer service one of your most important factors. 
Timing — Best practices would have you preparing for the event and engaged with a platform provider about 12 weeks beforehand. Keep in mind that developing the marketing assets to populate the virtual event platform may be the most time-consuming activity. As you consider the viability of your fall trade show schedule, moving to your own virtual event might be a great alternative. But get started soon!
Creative — Hosting a virtual event is going to make an impression; any company will certainly garner attention using this approach. But is that enough? To what extents have the event messaging and creative platform been fleshed out? Have you considered any "big ideas" that will encourage customer and prospect engagement with the event? Is there an advertising plan? A great engagement tactic or promotion should be part of the virtual event or executed separately to connect with customers in other media.
Content — Take advantage of the "presentation hall" to put together a great lineup of speakers. Include your own SMEs and invite third parties or customers to participate with you. You can do this live or provide pre-recorded content. I say go "live" for maximum engagement. 
Next Steps
There's a lot to think about in this blog, and I've not scratched the surface about how valuable the process of executing one or more of the alternatives above can be to your other marketing efforts. That is, you'll be creating content that can be repurposed across many different media you're already employing. But that's for another blog. Look for more thoughts on adapting your B2B marketing efforts in the near future. 

Hang in there.