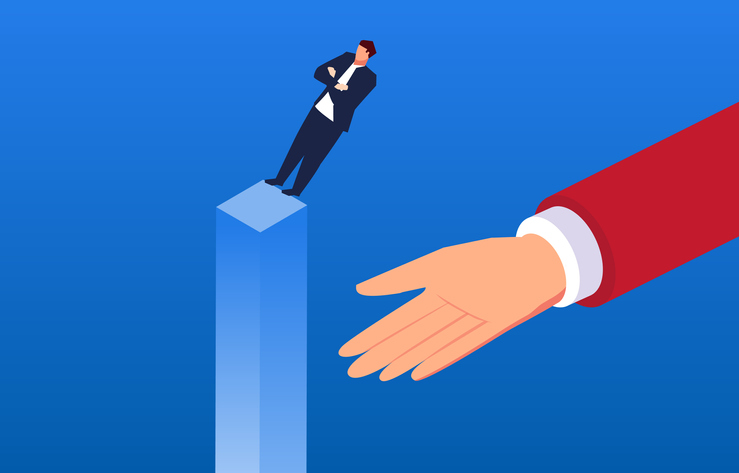 Marketing teams must build connection between a company and its buyers
It might not surprise you, but in many industries, being the most trusted company or brand can deliver a competitive advantage and be a true brand differentiator. And it's no wonder: trusted companies are found to have stronger buyers and advocates. 

But trust isn't easily given. In fact, currently trust in the world around us is at an all-time low in this age of skepticism and noise. This is why 95 percentof CMOs and brand managers are kept up at night by the issue of establishing trust between their brands and consumers, according to a survey by Brand Keys.

While earning trust in the market can be challenging, B2B marketing professionals are in the unique position to help build that connection with buyers. In this blog, I'll discuss five ways to build trust in your B2B company or brand.
Leverage new content formats
There are many ways you can leverage new content formats. One way is to invest in original research. Did you know that 74 percent of B2B buyers consider original research from brands to be influential with purchasing decisions, yet fewer than half of marketers (37 percent) actually use research reports as part of their content arsenal?

Use research to prove your claims with data. Remember: at the end of the day, you're trying to answer a business question and generate business value. And original research is the type of cornerstone content asset that can fuel a multitude of campaigns, channels and tactics. 

You can also try moving from static to interactive/experiential content like simulators and recommenders. But whatever format you choose, invest in content focused on education and ideas — rather than products and solutions — to help you elevate your expertise. This will allow you to boost your market position and become recognized as the leading authority for industry stewardship by virtue of your intellectual capital. 

Remember: the products that you sell are a fraction of the value you bring to market; your expertise and the trends and behaviors you can share are inherently valuable.
Tell exceptional truths
There is so much hyperbole and fluff out there. What is the opposite of exaggeration? Telling exceptional truths: what others are thinking, but not saying aloud, or that they're not aware of yet. Bringing candor about the daily problems your buyers face can help you earn their trust.

It requires courage to confidently promote bold brand ideas that challenge industry norms and offer provocative, disruptive claims. At the same time, we need to push back on bad ideas and fight to create value for our customers in the content and experiences we're producing. This is the path forward in becoming a function our colleagues trust and the one to drive trust for their brands in market.
Be clear about your values
Along with being truthful, don't be afraid to make clear what you stand for — and what you stand against. Too many brands lack an opinion about the very space they operate in, or fail to make clear what they believe or stand for. Have courage! To a buyer, if you stand for nothing or believe in nothing, you mean nothing. 

According to the Harvard Business Review, when consumers want a relationship with a brand, 64 perrcent cite shared values as the reason they have that relationship. 

Articulating your "why" as an organization can be powerful. Operate in a way throughout the business that illustrates your values. Maybe your company leader or executives evangelize the values. But when employees work under a common vision and mission clearly articulated internally and in market, it can make a big difference. Be transparent and work on building trust through shared principles with buyers. 

If your vision for the business is making a positive change in the world, don't be afraid to share that. Then educate the industry on why that is the best way forward.
Embrace validation
In a world of mistrust, we must prioritize the opinions of those who can hold us accountable to what we say and do. Harness those buyers who build trust most: influencers, analysts, consultants, online reviews and referrals that can validate your worldview and sing your praises. Highlight those voices aligning with yours and to whom buyers can relate.

Remember: people are paying attention to what others recommend. A total of 84 percent of C-level and VP-level buyers are influenced by social media when purchasing. These buyers are three times as likely to follow an influencer than a brand. 

But who is considered an influencer? It's someone who should have a pre-existing presence in your space, with the recognition and respect of others. They should be relatable. This is why review sites and referral programs have become so important — customers wonder what their peers think about doing business with you.

Customers referred from other customers tend to close more frequently (with higher conversion rates), faster, and have a higher lifetime value. This is because a referral is founded on trust.
Make the emotional connection
Brands that fully embrace transparency as a core value of their marketing and business operations can be positioned with a competitive advantage. With so much information coming at buyers constantly, you should make it as easy as possible for your buyers to make sales decisions. B2B brands can demonstrate intent through empathy. We trust those who we believe have our best interests at heart. That's why it's important to be relatable. 

Be clear how your solution impacts buyers in a personal way. Remember: the emotions behind every B2B purchase — a buyer's marketability, reputation and hope for the future — are on the line. Demonstrate that you understand them best, and they'll trust you have their best interests at heart.

Building trust in B2B marketing is no small effort, but it's our responsibility as marketers to employ the strategies to foster and strengthen that trust. If we marketers can demonstrate that we understand our buyers at a deep human level, we can differentiate ourselves from our competitors.

For more information on the importance of trust in B2B marketing, read our e-book created in partnership with Katie Martell, "Trust Me, B2B: Building and Keeping Trust in an Age of Skepticism and Noise."