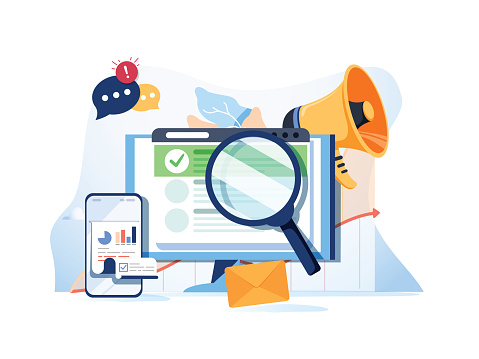 Perhaps you've recently invested a sizable portion of your marketing budget into a digital display campaign. Maybe you're seeing steady, consistent audience growth on LinkedIn month-over-month. And, traffic is flooding to your website. Suddenly, your boss asks that fateful question: "Where the heck are all the leads?"
What Some Digital Marketers Don't Want You to Know
I'm about to let you in on one of the most unfortunate secrets of the digital marketing industry: increasing traffic is shockingly easy, and often inexpensive. Sadly, human nature makes us fall in love with large numbers, especially if we don't have context or benchmarks to interpret what those numbers truly mean.
For most B2B businesses, traffic volume doesn't necessarily result in meaningful change in your lead count or cost per acquisition (Crazy Egg). If you've found yourself in this boat, it's time to interpret online data and understand your web traffic. To identify the disconnect between your traffic gains and lead stagnation (or even worse, declination), you need to look beyond quantity and start assessing quality.
The Brand Awareness Myth
This blog is focusing on B2B lead generation; businesses in this space usually offer complicated solutions or products. In the case of consumer goods or e-commerce, one could make the argument that all traffic is good traffic — think sneakers, for example. You might not always win the sale, but brand awareness can be a valued, secondary goal for driving clicks.
In B2B, however, it's important to ask whether the public at large is interested in becoming aware of your product or solution. If your ad appears during something universally enjoyable, a goofy cat video for instance, do you have any reason to believe that the clicks driven from that ad are decision makers who understand the context of your esoteric messaging? Is it possible clicks were driven as a result of mis-clicks when your ad interrupted their cat video experience? Perhaps you're attracting users who thought your ad represents something entirely different than the intended messaging. While you may see an increase in web traffic, the wrong audience demographics are visiting your site (CXL). You may have made these users aware of your brand, but now you've potentially made them a brand enemy.
It's easy to forget that clicks like these have consequences. Meaningless traffic can deplete your ad budget and poorly represent your brand. Throw out the notion that big traffic numbers matter if you're not confident they're from qualified sources.
Using Data to Identify Underlying Web Traffic Issues
In a perfect world, traffic volume and conversions, whether they be phone calls, form fills, purchases, etc., are in harmony with one another. The goal is to see your traffic and conversion count increase together. But if that's not happening, there's a good chance one of three scenarios could be taking place instead:
You've reached your market saturation point — congratulations, you have all the conversions!
You have a product problem — back to the drawing board; nobody wants what you're selling.
You have a targeting or messaging problem — the product is great, and there are so many more conversions to be had, but nobody is engaging with you beyond the first impression or click.
Realistically, you probably aren't worrying about problem #1 (but if you do, your goal should be to figure out how to keep your conversion volume and share of the market steady, while bringing your cost per acquisition down as much as possible).
Discerning between problems 2 and 3 can be accomplished by considering additional data points beyond traffic, including, but not limited to the following:
How are your bounce rates? Are they increasing as you start reaching larger volumes of web users or are they holding steady?
Are users spending more or less time on the site during an average session?
What areas of your landing pages are they clicking the most? Do they even see your contact form, phone number, etc.?
Are users taking any initial steps in the process but bailing before making final conversions? (For example, did they reach your contact page, but fail to submit a form?)
Is your traffic coming from geographically relevant places?
These type of assessments can go beyond just what you're seeing in Google Analytics, Omniture, or whatever analytics platform you use to measure your website traffic. Most reputable digital channels offer some level of data to help you asses the quality of your click interactions or engagements. Here are a few channel-specific key performance indicators (KPIs) to consider:
Search engine marketing: How are your click-through rates doing? Did you generate a ton of impressions but see your click-through rates take a nose-dive?
Social media: Are your engagement rates also increasing as your audience size increases?
Email: Are your open rates changing? How about unsubscribe rates?  
Display: Are you happy with where your ads are showing up? How does performance vary between your placements?
Using Your KPIs to Tell a Story
Let's assume you've worked through the initial issues of bloated visitor traffic numbers bogging down your bragging rights around the office. You've reset your goals to align with quality over quantity, and now you're seeing lead counts go up and the cost per lead going down. How do you prove it?
The KPIs described in the previous section can be helpful in this regard, provided they're tied back to something specific you implemented or tested. If the collected information can't be used in these ways, it probably doesn't make sense to report on it.
Let's say you've launched a sponsored content LinkedIn campaign — audience size may not be much larger than it was last quarter, but perhaps it's because the ad is no longer attracting the interest of entry-level audiences. But if you can show a rise in users with buying power every month (C-Level, vice presidents, directors, etc.) then I'd argue the campaign is more effective than simply watching your overall audience size skyrocketing.
In What Ways Can Traffic Volume Help?
When traffic volume is publicly displayed, such as Likes on a social post or video views, new users could be more likely to find it or interact with your business.
For example, if a user finds a video, they're more likely to watch it if they see it's already generated 20,000 views instead of a video that's only generated 15 views. Similarly, a LinkedIn profile with more than 10,000 followers inherently exhibits thought leadership in a way that the same account with 10 followers would not. Remember earlier when I mentioned that human nature makes us fall in love with big numbers? Use this to your advantage — but do so carefully and with respect to your overall marketing budget.
Trust That Your Target Audience Is Out There
Two of the strongest attributes of digital marketing compared to other traditional channels are access and trackability. Launching a digital campaign today is easy, and by tomorrow morning, you could be equipped with tremendous amounts of data to inform your next business decision. However, it's knowing how to use that data that can be tricky. Before you get started, take into consideration what your business goals are, who you are reaching, and how you are reaching them. The rest of it, even traffic volume in some cases, is just noise.
 If you can't decide which digital ad channel is right for you and your company, consider reading our industrial marketing guide to digital advertising.