In Q1 and Q2, I spent quite a bit of time with clients at large industry trade shows. Inevitably, I had a little time to walk around and see what exhibitors are doing. Here are five things that stood out in early 2017.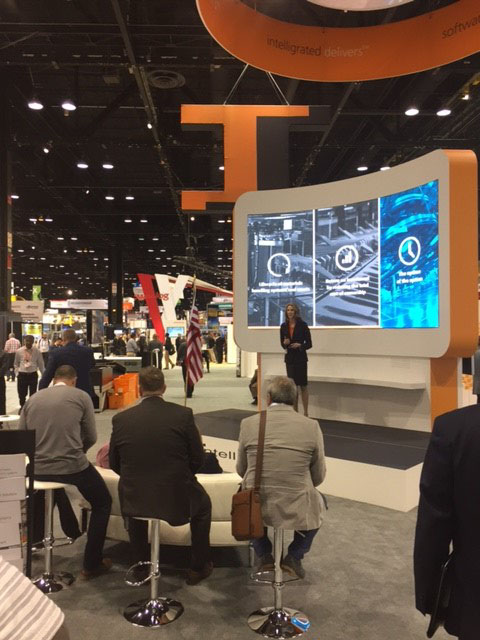 Screens — Lots of Big Ones
Of course, there was a lot of video. Notably, the average size of the screens has increased. I also saw more large LCD projection screens than ever before. Some were hanging, while others were placed high up in the booth structures in order to be seen from aisles away. These brought a lot of movement and visual interest to the booths.
There were also a lot of interactive touch-screen tools. Most large booths had at least a few touch-screen tools that were placed at the outer perimeters of the booths so attendees could "help themselves" to learn about a company and its offerings.
Virtual reality continues to trend up; large screens now project what the headset wearer is seeing. People were encouraged to participate. By doing so, they get entered into a drawing for a chance to win a prize. The most memorable use of VR had the "player" stand on the forklift they were virtually driving around a warehouse to make it seem more realistic.
Professional Presenters
I saw more professional presenters than I've seen in years. These hired spokespeople performed recurring sessions in the booths each day. This made a lot of sense to me, as we've experienced how difficult it is to get company subject matter experts to commit significant amounts of time and frequency leading presentations and discussions. The presenters I saw were highly skilled at drawing people into booths before each session. Speakers were placed on the perimeter of the booths to help entice passersby, often clogging the aisles with people watching the presentations. That's a good thing!
Hanging Signs Create Floor Space
Signage and graphics are being elevated — literally. Large signs and graphics are more commonly found hanging above the booth, especially when floor layouts require space for large equipment or displays to show a company's offerings. Greater use of hanging signs allows for standing room, better traffic patterns and large demos in the booths. It seems exhibitors are finding ways to maximize their use of their square footage investments.
I'll keep my eyes open for more ways companies are making their events more effective. In my opinion, event marketing is still an important part of the B2B marketing mix, and I know our customers are getting real results. Try something new the next time you participate in an event.
Not sure where to start? Ask me. It's kind of my thing.