Shifting Investments: Is It Time Your Traditional Booth Assets Transition to Digital, AR and VR?
As discussed in Part 1 of this blog series, it's going to be a very different year for trade shows. Chances are, your company has already started revising attendance plans and investments. It's certainly disappointing for everyone involved, and we're certainly hopeful for a robust return to normal in 2021. But big changes in your marketing plan might bring with them a silver lining. You've probably already added a few digital elements to your exhibit assets over time, supplementing the physical systems and equipment that traditionally dominate your booth layout. Does a lighter-than-expected show season present an opportunity to refocus financial and human resources toward a more progressive, higher-impact and flexible digital approach to your event marketing? 
The Simple Case for Digital Booth Assets
While there will always be room and a place for the signature physical elements that "make" the trade show, there are many instances where it's simply a better idea to go digital. Let's make the case.
Tell a better, more complete story
The two-ton signature piece of rotating equipment, beautifully painted with perfectly buffed chrome, is impressive. And it makes for a nice conversation centerpiece. But what about special configurations? Options for diffusers and impellers? Bearing options? Seal support systems? Alternative flow paths? There are dozens of other storytelling opportunities a static display can't communicate, even with expert support. Compare these two experiences and you'll get the idea. Total investment costs probably aren't that different. In fact, I'm guessing the digital asset costs slightly less.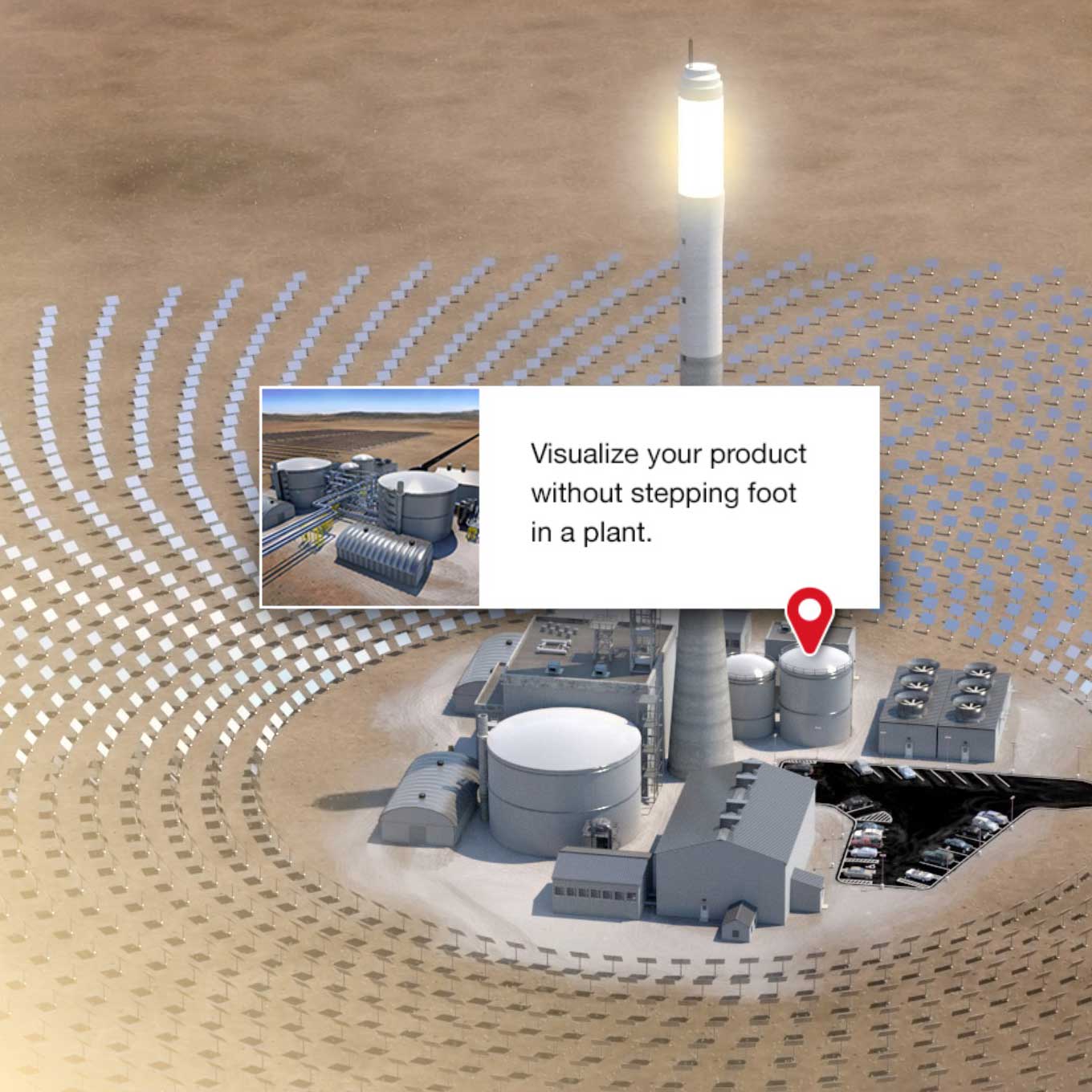 Maximize flexibility
We can tell a more complete story with a digital tool, and the costs to build each probably aren't that different. I should probably stop there. But wait! What if that signature product undergoes some design changes? Or (Heaven forbid), we need the same product at two different shows at the same time? What if my audiences have different language requirements? It's clear a digital version of your product can adapt to just about any scenario with minimal investment and be anywhere you want it to be at any time. No more fighting over trade show assets, building multiple copies, or obsoleting old designs.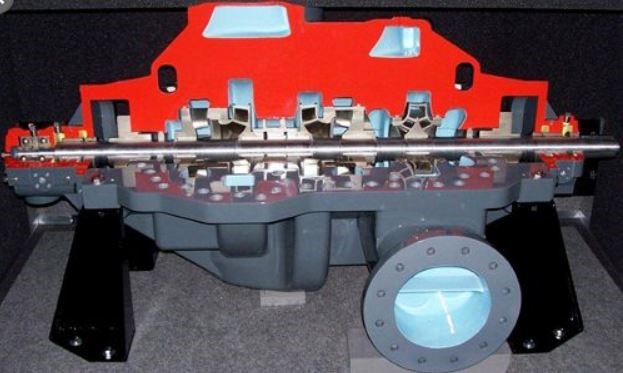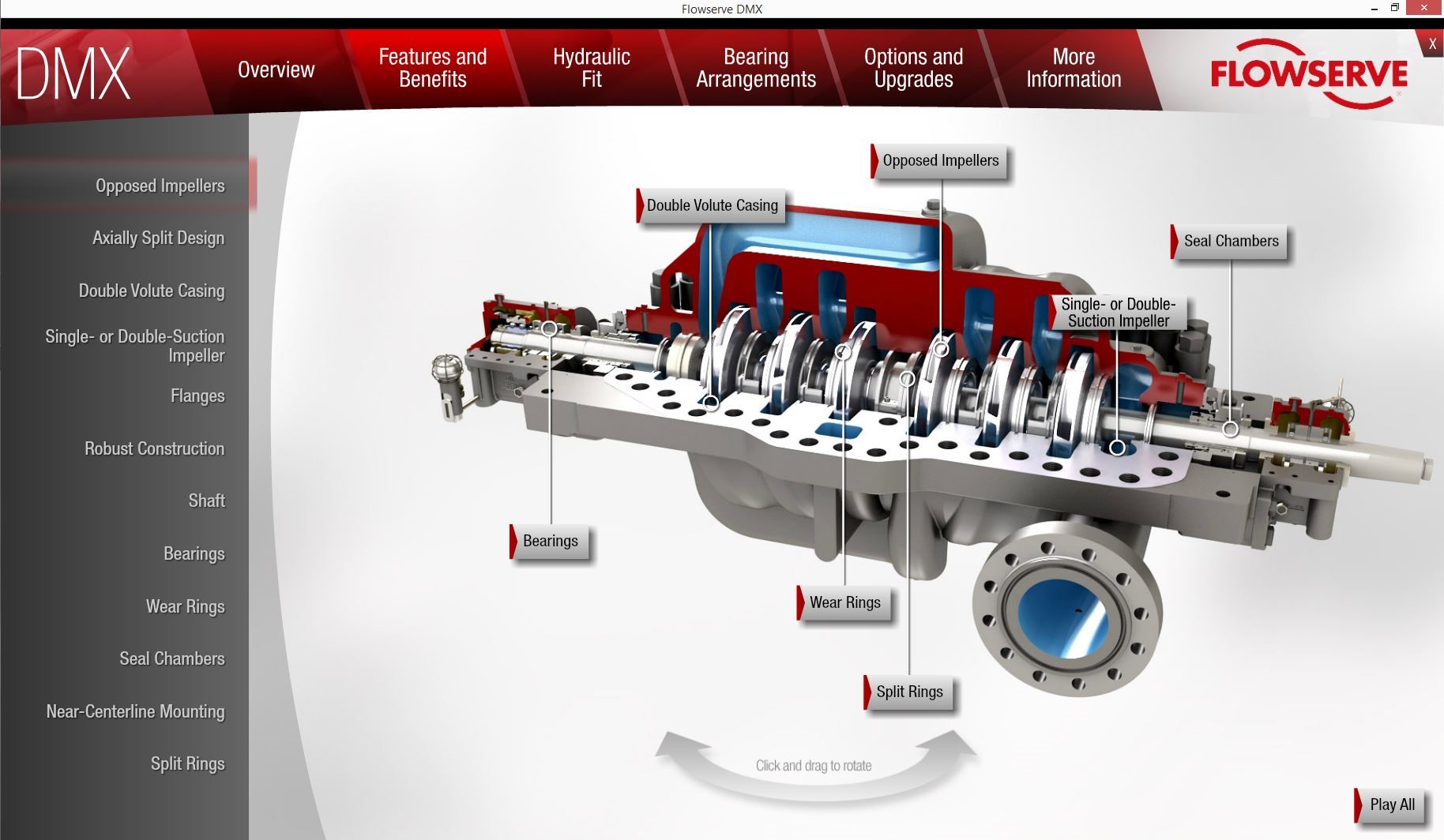 Lower your overall costs
Here's the list: No shipping. No storage. Unlimited copies in unlimited locations. If the digital version isn't cheaper on the front end, it won't take long to calculate the ROI for converting from physical to digital. Not sure how? We can help you build the case.
Repurpose in other formats
Beyond the trade show, a digital trade show asset lends itself to many other uses. We've successfully built tools that can also be used by every sales engineer — more than a thousand individual use cases from one digital trade show asset (how's that for amortizing costs?). You can also repurpose and deploy web-based versions to give website visitors the opportunity to engage on their own, allowing them a helpful boost through the evaluation stage of the sales funnel. Give your distributors access. Deploy the tool for on-site customer calls and training.
Interactive Guided Tours, Augmented Reality or Virtual Reality? Which Makes Sense?
As you evaluate new investments in digital booth assets, you'll discover you have a few options. We invited our partner, Kinetic Vision, to weigh in on the benefits of different approaches. Thank you to Brian Carovillano, director of Kinetic Vision's Creative + Visualization group, for his thoughts and providing a few great examples:

Kinetic Vision develops and integrates many new technologies, but there are few that have seen a faster rate of adoption than augmented and virtual reality. 

Even before the pandemic, we have been seeing fantastic growth in our AR/VR business, whether for AR/VR-related training, product support, marketing communication or industrial applications. Two basic factors are driving this growth: 
With so much technology being rapidly deployed around the globe, consumers are more comfortable with AR/VR than you would expect.
More importantly, businesses have become increasingly willing to integrate new ideas and technologies into their current offerings and training programs. 
Use AR/VR as an effective training tool
In a recent study conducted by The Johnson & Johnson Institute, surgeons were trained at the Imperial College of London to compare success rates between conventional and VR training methods for a laparoscopic hip surgery procedure. The result: 83% of the VR-trained students could perform the procedure after training, compared to NONE of the conventionally trained students. We've seen this type of result time and time again, since VR stimulates both declarative and procedural memory, improving learning significantly. Hands-on training is often considered essential in many industries, and by using this technology, an even more effective hands-on training is possible for a much broader audience without physical limitations.  
Reimagine your product demos
For businesses with small products, e.g., surgical devices, it is relatively easy to carry them in a portable sales case. But for businesses that have large equipment — industrial sized equipment — the problem of product transport gets much bigger — both in literal size and also in complexity. Consider Makino, which is one of the largest providers of machine tools in the world. As you can imagine, their machines weigh several tons and are usually shrouded in protective metal coverings. They approached us with an assignment to make it possible for their customers to "engage" and "see inside the machine." Since we don't have X-ray vision goggles, we decided on the next best thing: a unique AR application displayed on an iPad®. The customer simply holds up the iPad to the machine and the screen displays what is inside the machine — and even shows it working. Below is a photograph of the application in use: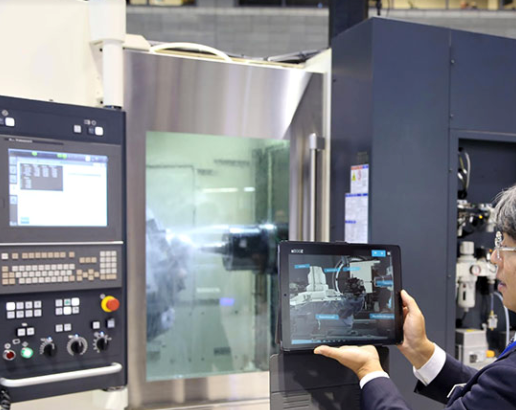 The Makino AR app recognizes a unique identifying target on each product, determines the tablet location and machining system, and displays photorealistic 3D animations of the internal systems in real time. The result is a "magic window" which allows the customer to zoom in and out as they physically move around and explore the machine's operation. The application debuted at the International Manufacturing Technology Show (IMTS) a few years ago with overwhelming response, including being recognized as one of the "7 Impressions of IMTS" by Modern Machine Shop magazine. 
Virtual product installations
Another possibility for companies that produce large, complex machinery is to create a virtual environment that shows how their products are applied in the context of their customers' environments. Consider Flowserve, a manufacturer of engineered pumps, valves, seals and fluid management systems. Most of their products are too large to transport physically. And even when they can be transported, understanding how they work and where they are applied can be difficult to communicate.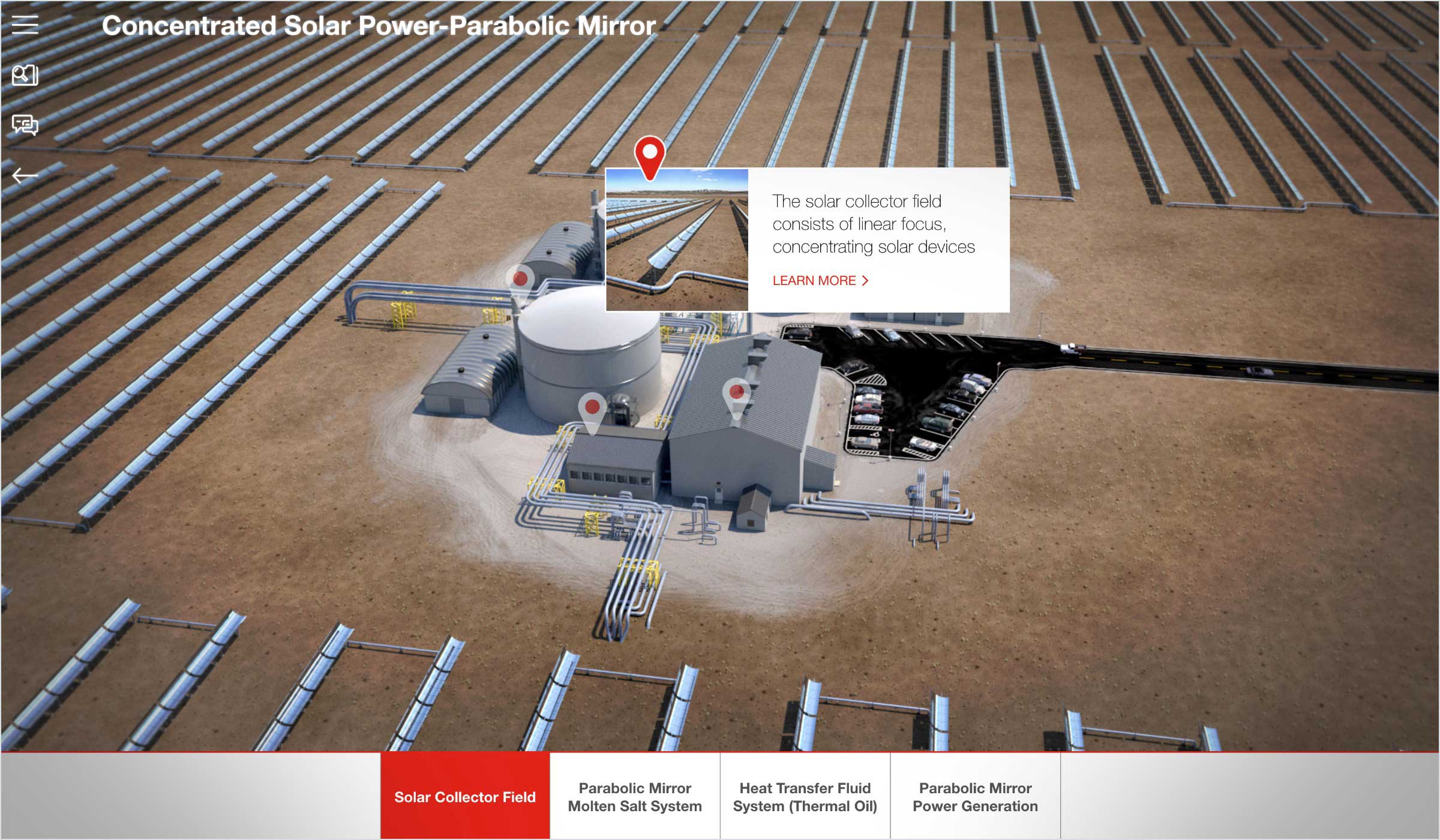 We solved this by creating three-dimensional plant environments, sub-divided into sub-plants and units customers are readily familiar with. By allowing customers to virtually tour plants that look like their own, they can more easily understand how Flowserve products could be applied in their world. These digital environments also make it easy to share important documentation (e.g., applicable process flow diagrams, technical manuals) and videos that explain the products' capabilities in photorealistic 3D animations. Much like AR/VR, digital environments like this also make excellent training tools for sales and application engineers.
Change of Plans. We're Going Virtual!
No matter what the technology application is — AR/VR, virtual tours or digital animation — the key is communicating valuable information to your audience in an interesting and captivating way. Success is achieved when the audience begins to realize things they have never thought of before or consume information in ways that improve retention and engagement. The technology is at our fingertips, and harnessing it in various ways is a total win for all parties.

These solutions improve access to your signature exhibition assets, reduce costs, and tell better stories about how products solve myriad customer challenges. As you reflect on what is sure to be an abnormal year for trade shows, consider whether this is an opportunity to rethink your booth strategy and how to allocate future investments. You've got options.

Hang in there.