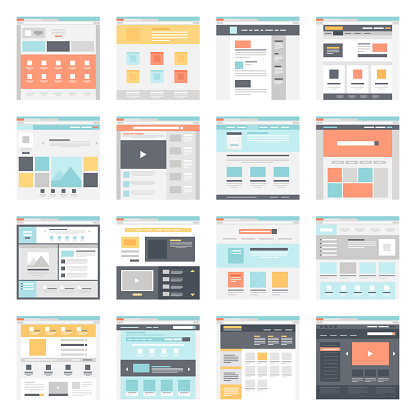 Which Websites Impress Our Team?
If you're a graphic designer or work in any creative role, you're always looking to create something different and inspiring for your clients. Some days, the ideas just flow. But then again, we've all experienced days where it's a struggle to get the creative juices flowing! It's a stumbling block for the creative mind, which can be difficult to get past. One thing that can help, especially with digital design, is to step away from the work and look for inspiration online. With help from our creative and marketing technology teams, I've put together some of our favorite websites that have helped re-energize our thinking. Enjoy!
Inspiring Web Design
I feel this website comes right out and says, "Let's get started." It begins with "starting an experience" and then takes you on a journey through the history of Porsche. The fluidity of the design and the way this website was developed are mind-blowing because of its quick load times and seamless transitions among decades of Porsche history. On top of the code theatrics, it also has a basic design, simplifying navigation for its users. PORSCHEvolution designed it that way so users can focus on the story, while still keeping its ultra-sleek look — a true masterpiece for web design in my book.
Anton and Irene, the two freelance designers behind this website, inspired me to pursue a career in web design and development, so it's worth mentioning! Their website is a testament to the facts that design is a limitless artform and websites don't always have to be static and two-dimensional. Anton and Irene push the envelope with their parallax effects, allowing users to scroll and play with their designs and artwork, like interacting with models in a snowstorm or unzipping masks to reveal different people each time. Viewing their website feels like a show. It's exciting and new, and if this site doesn't get people jazzed about web design, I don't know what will.
As crazy as it sounds, this website is a lookbook for children's designer slippers. Even as the website is still loading, their art director, Lionel Durimel, chose to add some magic to the experience with fun loading animations. Sometimes, loading animations can get overlooked or completely ignored, but using them can be a great tool to maximize a user's time spent on your website and create an experience right from the start. You can almost think of them like the first line of a book: it should intrigue the viewer and make them want to read more. In addition to the load-in experience, Melanie F has a lot of parallax-scroll chops and uses a unique style that resembles a modern, digital scrapbook.
Since TriComB2B is full of creative minds from so many different backgrounds, I included some of my coworkers' favorite websites too.
Inspiring Websites for Interactive Technology
Patrick McMullen, director of marketing technology, notes that Siemens has a very clean, organized design that is a great inspirational resource for any corporate website. This website is commonly referenced as a flagship of corporate web design and uses many modern design trends.
Feed Music
Another fun and inviting website is Feed, which uses an interactive, scroll-trigger to show what they're about in an untraditional way. If you're off-put by the scrolling, there is also an option to use a traditional website menu navigation.
Simply put, this website has awesome visuals and cool scroll and mouse movement effects. It's like actually being at a race.
This is one of Patrick's favorites and another great example of an interactive load screen and creative user experience. In Space We Trust takes web visitors on a journey through multiple storylines and timelines with just its keyboard arrows.
This is a suggestion by Todd Miller, our lead developer. The site uses hijacking browser scrolling to take visitors on a horizontal and vertical trip to explore the movement of data. There's a lot to dislike here, but it's a good demonstration of what you can accomplish if you think outside of the box of typical vertical web browsing.
This website takes your typical print article and puts it into an interactive web format. Surprisingly, it still retains that "print" magazine feel, but with the additions of overlaying backgrounds, opacity tricks and a few parallax elements, it gives the reader a new perspective on the story.
Ten More Creative Website Ideas for Any Designer
If the websites I already mentioned didn't do the trick, here are 10 additional site suggestions from other members of our design team.
If you're looking for an example of a clean and well-organized user interface, this is the website suggestion from Dan Williams, our digital design lead. Be sure to take note of its seamless switch between desktop and mobile with their easy-to-use icons.
Typography is the centerpiece of this website design, so while you scroll, the information is broken up by different text styles and sizes. The use of color to lead visitors throughout the website is something to note too.
This website uses video to tell a story, with a simplistic design.
Archivio Storico is another website which uses video to tell an interactive story, this time about the history of connection. It employs a clean user interface, quick load times and a fantastic user experience to take them on a journey. It's a great suggestion from our associate creative director, Jonah Otchy.
High Performance Sport New Zealand
This website uses image patterns and motion that follows your mouse's movements. The design is sleek, simple and easy to navigate. If you scroll through the site, there are even some clickable extras that add a nice touch to their design.
Yuto Takahashi, a designer from Japan, combines animation and color to reveal detail as you scroll.
This payment platform has been making headlines in the technology world, so it's no surprise that Mike Bell, vice president of creative, finds inspiration from this business leader. The design and motion graphics of Stripe's site enhance the user experience without overwhelming or interrupting the content. Video is also incorporated into the design without being "just another big video background." And, navigation is easy, featuring a more traditional approach with an action menu at the top of the page.
Something that is important for Mike is whether or not a website works seamlessly on both desktop and mobile. Algo segments information into interesting blocks, taking advantage of squares and other shapes. Entertaining motion, bold colors and a consistent experience set this website apart.
Another animated load screen; I think I'm starting to notice a trend. Art director and graphic designer, Louis Ansa, combines animation and image overlay throughout the site. He sticks to a clean design and easy-to-use navigation.
And last but not least, Richard gets drunk and tests websites, putting them through the ultimate simplicity test: Can a drunk person use it? What's not to love?
Find Your Inspiration Anywhere
Whether you're looking to find inspiration for your next fresh, innovative, minimalist or out-of-the-box project, I hope these websites can spark some creative ideas for you. Be sure you don't limit your thinking and sources of ideas for your next project. Even in the business-to-business (B2B) space, design elements and inspiration can be derived from consumer, creative and corporate websites. Got some sites you like? We'd love to hear about them.