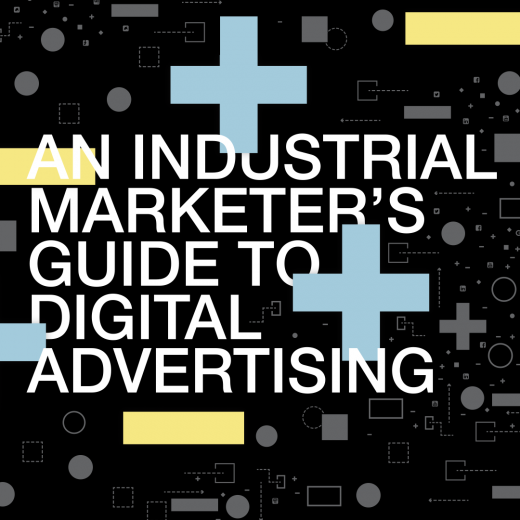 "We need to take our marketing program digital." You've probably heard this statement or some variation a few times in your marketing career, no matter how new or seasoned you might be. Taking it digital. What does that even mean? Well, there are a lot of options for going digital, but much of the focus in our content marketing world has been on organic inbound. Create great content, put it out there on myriad cyber channels, and drive traffic and engagement.
Too often, however, B2B marketing professionals overlook paid channels. We seem more inclined to want to "earn" our lead generation organically, not pay for it. That makes a lot of sense, but it seems the pendulum always swings too far in one direction. Paid can work, i.e., paid digital advertising. If you explore this route, however, you can find the options a little overwhelming.
I'm here to offer some peace of mind. We've developed a guide that provides a summary of major paid advertising options that we feel are most relevant for business to business (B2B) industrial marketers. Here's a little of what you will find in the paper.
Digital Advertising Stats That Might Scare You a Little
Paid digital advertising is a huge space: an $83 billion market. A lot of that flows through Google and Facebook, but there are plenty of other options to consider.
All the options appear to have shortcomings:
Click-through rates at about 0.05 percent.
Almost all the clicks coming from 8 percent of users. That means 92 percent of us pretty much don't engage with digital ads.
60 percent of mobile clicks are accidental.
Ugh.
And there are plenty more stats where that came from. But not all is lost. In fact, there are some excellent options for B2B marketers across a variety of platforms. But as with any aspect of your marketing program, it will take serious research and planning to maximize effectiveness.
What Are Some of Your Options?
Our paper, Online Paid Advertising, an Executive Primer for Industrial B2B, covers four categories for paid digital advertising in detail. For each, we provide an overview of the category, evidence (or lack thereof) of its efficacy, and our take on whether you should consider it. The categories are:
Traditional Display — These are the common leaderboards, banners, skyscrapers and rich media ads one places directly with online publications. Traditional display ads normally employ images, video and even audio to deliver a message. Just like traditional print, placement costs are negotiated with the website's owner.
Quick Take: With 0.04 percent click-thru rates, it's hard to get excited, but digital publishers have become very creative at developing targeted programs for audiences. Download the paper, Online Paid Advertising, an Executive Primer for Industrial B2B, for more analysis and recommendations.
Display Network — This type of advertising uses a network that connects the businesses that want to run ads with the websites that want to host them. Ad networks buy unsold ad space from online publishers and act as brokers, packaging them to sell to advertisers. This is a complex space with a lot of players and technologies. Google and Facebook rule. The industry uses programmatic techniques to automate the buying and selling process. The paper covers two types of programmatic methods: retargeting and account-based marketing.
Quick Take: Broadly speaking, we see two scenarios that merit consideration for B2B industrial marketers: retargeting for e-commerce or transactional products; and account-based approaches for high-value clients. We're not sold on chasing a generic website visitor with an informational banner on msnbc.com. At least not yet. Download the paper for stats, analysis and recommendations.                                                                                                                      
Paid Search — This form of digital advertising describes the practice of placing sponsored ads in a search engine by bidding for placement on search engine results pages (SERP) and paying when your ad is clicked (aka PPC). Ads usually appear at the top and bottom of the SERP. Google is, of course, the most common platform; advertisers manage their campaigns on its AdWords platform. An average click-through rate of 2.41 percent in B2B doesn't sound all that bad, but there are still questions about quality. Also, only 15 percent of the clicks go to ads, so organic results still rule the roost.
Quick Take: PPC is a quick fix that allows you to bid your way to the top of the SERP. Scenarios where it makes the most sense include situations where timing matters: product launches, special events, limited-time offers, and bridging the gap until you've developed an organic presence. You can find a lot more information on this category here.
Paid Social — Marketers can target audiences with advertising on social media platforms by taking advantage of user and company profiles. Social media platforms use different types of targeting options, such as: geotargeting, demographics, psychographics and other attributes. Our paper covers LinkedIn, Facebook, YouTube and Twitter in some detail.
Quick Take? Most social media conversions in B2B come from LinkedIn. Thus, advertising on the site is very viable. The platform offers numerous options, which our paper covers at a high level. We also share some insights and trepidations about Facebook, Twitter and YouTube.
Digital Advertising Moves Fast
It's a fast-paced digital advertising world. B2B industrial marketers need to do their homework — and get it right so their dollars don't go to waste. Don't dismiss it as an option because of low click rates or the options are too overwhelming. Paid advertising can be very viable in B2B, and thoughtful approaches can yield nice results. The technology continues to improve; new options for audience targeting are seemingly released every day.
If you're not sure where to start, download the paper, Online Paid Advertising, an Executive Primer for Industrial B2B, and give it a read. If you like what you see and want to discuss options further, give us a call.